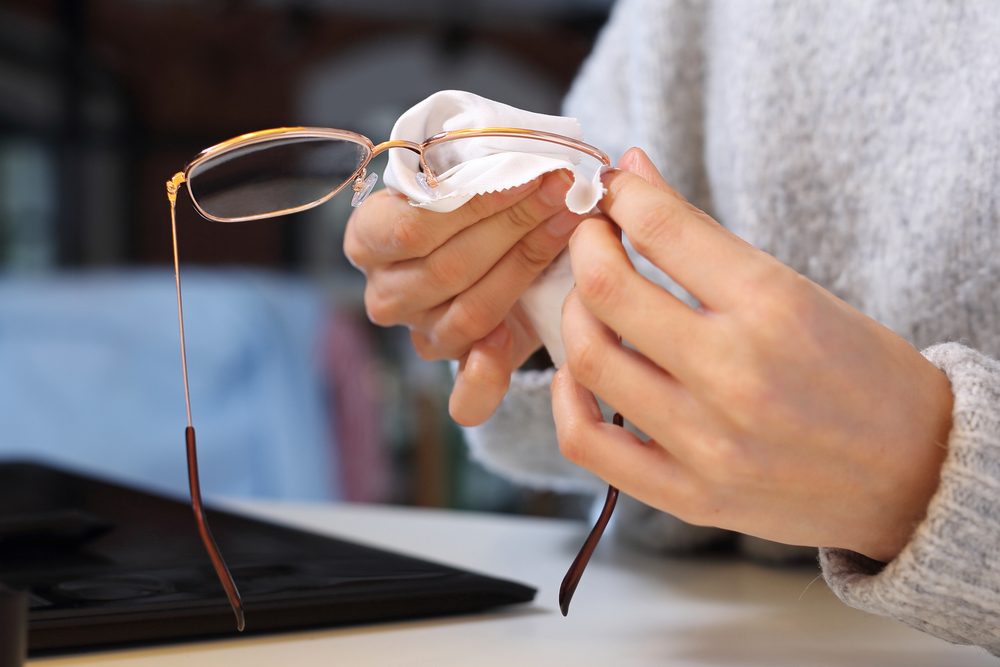 We all live busy lives and its so easy to forget to maintain, care and clean your glasses.  Your glasses are one of the best investments you can make for your eyes so here is our guide for the do's and don'ts for cleaning your glasses.
The Don'ts of Cleaning your Glasses:
Do not clean your glasses with your clothing.  If you are always on the go it's so convenient to take your glasses off, exhale a few breaths and rigorously start cleaning your lenses with the clothing you are wearing.  This is not the right method of cleaning as your clothing may contain dust and debris that may scratch your lenses.  The material of your clothing may be tough in texture which can also scratch and damage your lenses.
Avoid using window cleaners.  Just because the ammonia based cleaners make your household or car windows sparkle does not mean they are great for your glasses.  The ammonia present in these cleaners can damage the protective coating of your lenses.  A lot of these window cleaners contain chemicals that can irritate your eyes.
Never leave your frames unprotected.  All frames purchased through reputable opticians will provide you a protective case for the storage of your frames.  If you are not using them put them away in your storage case as this will protect it from debris and dust particles.  Avoid stuffing your frames into handbags or your pockets.
Other things to avoid is using tissues and paper towels to clean your glasses as these tissues can scratch or smear your lenses and leave traces of lint.
The Do's of Cleaning your Glasses:
Use the correct method.  The best technique is to apply a small drop of lotion free washing up liquid onto each lens, using lukewarm running water gently rub both sides of lenses and the nose pads.  Rinse the frames thoroughly, using a cotton cloth clean and dry all areas of your glasses until you see no smudges or smears.
You can also purchase lens cleaning solution with a microfibre cloth from any opticians.  This method helps you save time using the above water method.  The advantages of the microfibre cloth is it will trap dirt and liquid in its fibres leaving a clean surface.
Always use a protective case for the storage of glasses when you are not using them.  The casing protects your glasses from dust particles.
Last but not least always use both hands to remove your glasses this prevents your frames being misaligned.  Avoid touching the lenses as your hands will have moisture and possible dust particles.
Contact us today for all your home eyecare needs.  No long waiting times with our home eye tests, book your eye test appointment today.
Our highly trained staff are knowledgable in the maintenance and cleaning of your glasses so do give us a call.