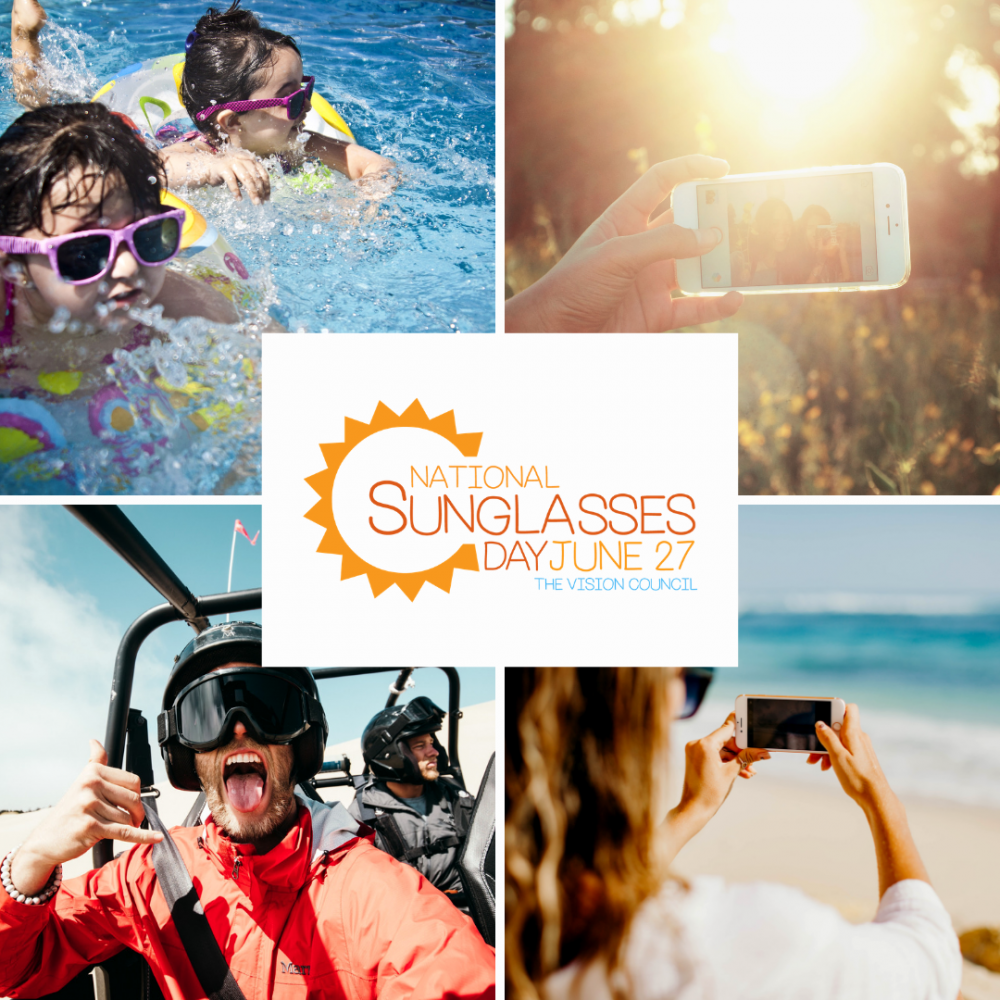 As we are rapidly approaching 27 June 2019 which is officially National Sunglasses Day, we thought it was only right to write about the health benefits and non health benefits of sunglasses.
As important it is to protect your skin from the effects of the sun it is just as important to protect your eyes from the harmful effects of the ultraviolet (UV) rays given off by the sun.
The health benefits of wearing your sunglasses are :
1.  Reduce the likelihood of Skin Cancer
10% of skin cancers are found near the eye lid so it is imperative that you protect your eye and surrounding areas with UV protected sunglasses.
2.  Prevent Macular Degeneration
Macular degeneration is a condition where the macula deteriorates over time which causes blurriness and in some cases blindness.  The UV rays of the sun enhances this process so it is very important to protect your eyes by wearing your sunglasses.
3.  Lower the risk of Cataracts
Cataracts are one of the leading causes of blindness.  Cataract formation is enhanced by the UV rays given off by the sun.  Sunglasses with UV protected lenses will reduce this risk.
4.  Reduction of Migraines
The rays of the sun can be a trigger for migraines, wearing your sunglasses can reduce the severity and frequency of your migraines.
Safety Benefits of Sunglasses :
1.  Winter Weather
It is essential to protect your eyes in the weather as the glare off snow and melting ice reflects harmful UV rays off the ground.  The same goes for driving in winter.  Wearing your sunglasses will also eliminate squinting whilst driving.
2.  Protection from debris
The effects of the wind can blow sand, dust and other particulate matter into your eyes causing irritation and possible damage.  Protect your eyes by wearing your sunglasses.
Social Benefits of Sunglasses :
1.  Clear Vision
Having the right lenses in your sunglasses will enhance the clarity of your vision this in turn will have a knock on effect with an improvement in driving but also performance in sports such as fishing, golf and water sports.
Fashion Benefits of Sunglasses :
1.  Personalise your Style
Owning a pair of sunglasses is a fashion statement on its own.  Sunglasses come in all shapes, sizes, colours and brands to suit your personality.  Pop into one of our stores to see our wide range of sunglasses.
If you do purchase a pair of sunglasses always ensure the lenses offer full UV protection.  If you do need a better understanding of tints and coatings take a read of our blog.
Contact us today.   We can also bring you our range of sunglasses to try on at home.